Standard fold-out ladders
We manufacture and deliver fold-out fire escape ladders in all lengths and colours. This ladder does not have safety hoops, but still offers a safe evacuation route during fires or other dangerous situations. The ladder is mounted vertically on the outside of a building to allow access from windows, balconies etc. When removing a locking pin, the ladder is folded out from the access point and down to the ground. Prices vary depending on length and required accessories. Feel free to contact us to get a price quotation.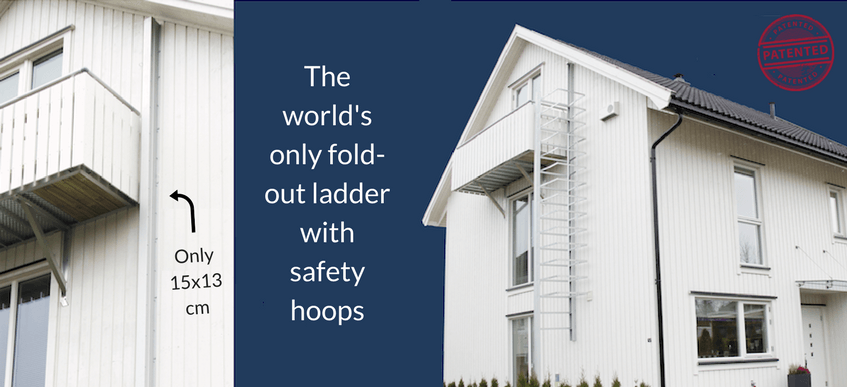 Escape ladder with safety hoops
The X1 Escape ladder is a fold-out ladder that also has safety hoops. This patented ladder offers the safety of a traditional ladder with a hoop/cage, while also maintaining a sleek design due to its fold-out technology. The ladders are permanently fixed to the wall and has an attractive and unobtrusive design. It measures just 15×12 cm when closed. When removing the safety pin and opening the ladder, it measures 70×70 cm, like any traditional escape ladder with safety hoops.
The ladder comes in different lengths and a wide variety of colours. If you would like see what colours we offer, you can download our RAL colour chart here. The ladder comes in modules that measure 5,7m, 2,1m and 1,2m. These modules can be joined to fit any desired length.
Learn more about our products and solutions for companies​