More than 20 years of experience
We manufacture high quality patented escape and access ladders
25 years of manufacturing excellence with quality at its best.
X1 Escape Ladder manufacture and sell patented escape and access ladders for all buildings and structures. Our ladders are specifically designed to provide a safe evacuation route during fires or other dangerous situations. Our newest ladder can also be used as an access path for roofs or tall structures. We offer the only fold-out ladder on the market that has safety hoops. The ladders are permanently fixed to the wall and has an attractive and unobtrusive design. We are betting on ourselves and have our own factory, sales and distribution network, as well as assemblers in all of Norway. We are currently looking for retailers and distributors in Europe. Feel free to get in touch if you would like to hear more about our products and business.
Fold-out fire escape ladder
See how our classic fold out ladder (without safety hoops) looks fixed to a wall. We like to refer to these ladders as the "architects' favourite" because they measure only 7×7 cm when closed. They can also be painted in any colour imaginable. Drag the arrows with your mouse pointer to see how they appear when closed and opened.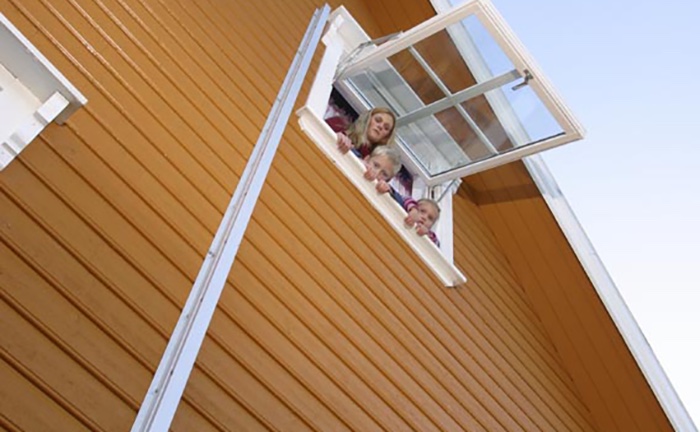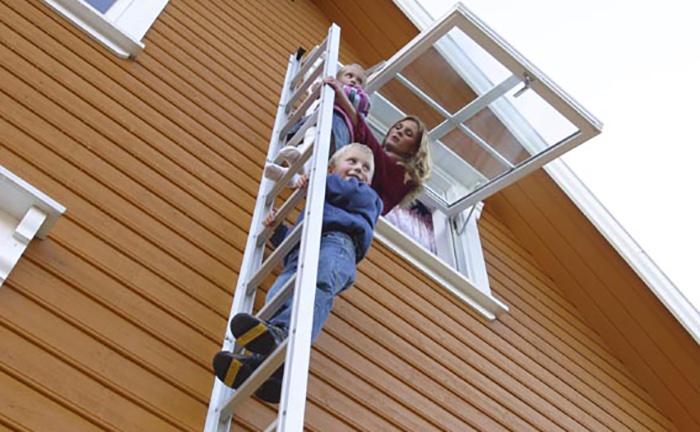 Fold-out ladder with safety hoops
Watch the video to see a demonstration of how easily the ladder can be opened and closed.
High quality and production capacity
Learn more about our products and solutions for companies